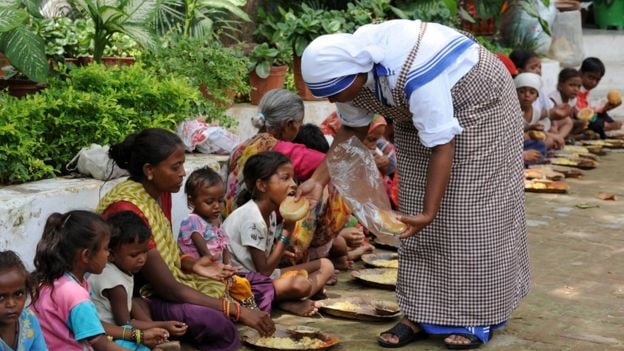 How Did Mother Teresa Help Poor People?
Apr 05,  · Mother Teresa helped poor people by feeding and dressing them, and caring for the sick. She believed that it was God's call for her to help the poor. Mother Teresa acquired basic medical training before she started helping the poor. At first, she started her work on her own with very little support. At times, she was forced to borrow food so that she could feed the hungry. Mother Teresa with children Through prayer, discernment and vision, Mother Teresa felt God was calling her to a 'mission within a mission' and eventually establish a religious order dedicated to care of the poor. Mother Theresa of Calcutta went first to the slums.
September 5, 11, Views. Today, we celebrate the feast of Blessed Teresa of Calcutta. This is an appropriate time to look back on her incredible life that changed the world, so that we may look forward in our own lives to try to continue her beautiful work.
The following is just a short reflection about a few of the ways that she shaped, and continues to shape, our notion of poverty and how we can help the poor. Though materials are a good, and the raw materials of the earth are gifts from God, we are tempted to elevate their value beyond that of higher goods like love, family, and faith. We begin to put our hope and trust in materials, rather than in God.
And once that trust gets strong, we can begin to fear poverty. But Mother Teresa suggests that it is not the presence of goods that gives us peace—it is often the absence. No Greater Love pp.
New World Library. Kindle Edition. The luxuries of the world often require attention and upkeep. Maybe the answer for many of us is to free ourselves of those items that seem to take up so much of our attention, so that we may focus on giving of ourselves.
Mother Teresa taught us that the most devastating form of poverty often did not involve a lack of material riches, but a lack of love. She writes:. It means being unwanted, unloved, and neglected. It means having no one to call your own. No Greater Love p. With all the material riches in the West, there is a terrible scarcity of love. But we can help change that. We can be a friend to others. We can be the one they call their own.
In a world preaching class warfare that amounted to the deaths of millions of people, Mother Teresa offers what are the symptoms of a stomach aneurysm advice:.
For our part, what we desire is not a class struggle but a class encounter, in which the rich save the poor and the poor save the rich. While communists viewed class struggle and violence as the inevitable result of a difference in wealth, Mother Teresa saw something different. Rather than a springboard for violence, she believed that a dissimilarity in wealth created an opportunity; the poor offered the rich an opportunity for charity, while the rich offered the what to do when your child is being picked on the chance to practice humility.
The difference in class offered the chance for sanctity. Many of us spend a lifetime looking for something great to do, and forego the small achievements of life. Perhaps she was thinking about that kind of person in this famous quote attributed to her:.
Life offers us few chances to feed a hundred people at a time, but it seems to offer us a chance to feed one person almost every day. It is personal. It might be hard for us to comfort a hundred people today, but we can start with just one person. Jump to: 1 Poverty is freedom. John Clark.
Subscribe to My Articles. Learn about Homeschooling with Seton. School Pre-K through 12 at home. A quality, Catholic education. Online learning. Accredited and affordable. Pin It on Pinterest.
Mother Teresa chose to "serve the poorest of the poor and to live among them and like them." She saw beauty in every human being. She, along with others of the Missionaries of Charity, strove to make the lives and deaths of those around them more peaceful and full of love. She fed, washed, and cared for anyone who needed the assistance. Mother Teresa has helped thousands of poor people and she says that she did it all because of a calling from God and he said to her "to serve him amongst the poorest of poor". S he says that it all began because of God's calling to her and this is how God's calling played out. Mother Teresa taught at Stain Mary's High School, in Calcutta, India. Sep 05,  · While communists viewed class struggle and violence as the inevitable result of a difference in wealth, Mother Teresa saw something different. Rather than a springboard for violence, she believed that a dissimilarity in wealth created an opportunity; the poor offered the rich an opportunity for charity, while the rich offered the poor the chance to practice humility.
And not just once, but twice. Truth be told, I have endured times of poverty, but my days spent in the shelters were not during those times, and they were in two different parts of the world. The first time was in Harlem, New York about 30 years ago, when it was very dangerous to be on the streets of that barbed-wire jungle. The second time was just a few years ago in Rome, Italy. Allow me to back up a bit in order to tell the story about meeting my spiritual mother, whom others knew as the Saint of the Gutters, or simply as Mother Teresa.
Almost 30 years ago, I first laid eyes on the little saint of the poor, dressed in a simple white cotton sari trimmed in Blessed Mother blue. I caught my first glimpse of her out of the corner of my eye, when she walked right past me quietly in her bare feet just before Mass was about to begin at the Missionaries of Charity convent in Washington, DC.
Hardon, SJ, had asked me to bring my family to see him for a face-to-face meeting. We had a very meaningful visit, observing the great love and tenderness shown to the poor and suffering living in the home, at which there was a clear and beautiful aura of holiness. The MC sisters invited us to return the following day for a private Mass in their chapel.
My heart secretly soared hearing that Mother Teresa was there at the convent. Once inside, one of the first things I noticed was actually a lack of things. The chapel was very stark, yet so very meaningful. I settled my children and we all knelt down to say our prayers before Mass. Meeting the Saint of the Gutters. We had picked the right Mass, for Mother Teresa unexpectedly walked in. She seemed to float right past me.
I needed to quickly direct my mind back to the Mass that was about to begin. Never mind the fact that a living saint was in our midst! Another surprise unfolded right after the Mass. As we were leaving the modest chapel, my children genuflected to Jesus in the tabernacle when unexpectedly a Missionaries of Charity nun came running up behind my six-year-old daughter Chaldea and gave her a hug.
I surmised that the sweet sister must have been touched to see a little girl saying good bye to Jesus. Before I could finish my thought, I realized that it was none other than Mother Teresa!
But, as quickly as she came into the picture, she was heading out of the room in another direction. The door closed behind her. I was so overcome with gratefulness after witnessing a living saint hug my child—but there was more to come.
Then Mother Teresa was standing directly in front of us. She asked me a question. My heart was rejoicing. My little daughter was a bit restless in the hot little room.
You see, Mother Teresa made sure that the sisters lived just as the poor live, without creature comforts. She told me my children were very fortunate to have a family. The Saint of the Gutters was accustomed to picking babies up out of dustbins. Those little ones discarded by leper parents, perhaps, who could no longer care for them.
I told her I was so blessed to have my children. At the time, I had three children on earth and three in heaven. We chatted for a long while and I felt as if I had known that tiny woman all my life. It was transforming. Before she left to go back to her duties, my children and I gave her warm hugs. As Mother Teresa walked away, she turned to us and asked again for our prayers for the poor she served, as well as for herself. It turns out that Mother Teresa and Father Hardon would keep my life interesting.
I got a call from Father Hardon inviting me to spend a weekend in Harlem at the Missionaries of Charity convent. He would be giving a retreat to Mother Teresa and her sisters. How could I refuse? Though I was married and had three children and one on the way that I was not yet aware of , I agreed to take a few days away from the family and partake in the activities of the sisters, to benefit from a holy retreat, as well as to serve hundreds of hungry guests in their soup kitchen.
I jumped at the chance. I wanted to get off the Harlem streets as quickly as possible. The Missionaries of Charity sisters greeted me warmly.
I was escorted to a little room and served a modest meal. Next, Father Hardon came to greet me. I was eager to do just that. The long weekend was filled with grace and beauty. I observed the sisters in action and in prayer. I was involved in preparing food in their soup kitchen—making meals from food that had previously been discarded, a bit past expiration date or slightly bruised.
I learned a great lesson from the sister who retrieved the pear I had tossed into the garbage, telling me that there was still one good part left on it. Ever since, I have become more cognizant about not wasting any food. Every good little bit can help to feed someone. Some of them were sworn enemies coming together to break bread, enveloped in the prayer of the sisters. Books born out of a precarious pregnancy. Upon returning home I learned I was pregnant with my son Joseph, who was blessed to be within me while holy sisters, Mother Teresa, and Father Hardon were around us.
Still later, she would hold Joseph, rejoicing in his birth. She had prayed for Joseph in utero because I had a heart condition. A couple years later, I would be just about flat on my back on complete bed rest with another pregnancy.
I had to stay still, wait, and pray. I got word to Mother Teresa, who prayed for me and sent a blessed Miraculous Medal, promising me that Mother Mary would take care of me. Those were precarious times, not only because of the pregnancy, but also because of my marriage. I recount this in my memoir, The Kiss of Jesus.
Mother Teresa was my hero and spiritual mother—always offering loving prayers and advice, imparting her holy wisdom. Miraculously, my daughter Mary-Catherine not only survived that pregnancy of bed rest and was born safely, but books were born too! I had never planned on writing, but I became so inspired to write for expectant mothers and mothers during that pregnancy.
I suddenly saw a pregnancy as a nine-month novena of prayer. God knew what he was doing when he put me still. I got a ride down the street to the Missionaries of Charity convent and was welcomed warmly by the MC sisters, who were actually expecting me. What they and I did not expect was that I arrived there much earlier than planned. One young woman in particular seemed very fascinated with talking with me.
As I spoke with her I looked up and I saw Jesus in her eyes. It was a special moment and reminded me of Mother Teresa serving Jesus in each person she met. I then rested a short while on a bed in the shelter after taking a quick shower and using a borrowed towel. She went on to describe the beauty of knowing and understanding how Jesus often felt and how his poor often feel.
She warmed my heart when she told me that Mother Teresa was watching over me. It certainly was a profound and moving experience. Feeding dishes of rice. Mother Teresa taught the world about love. We can ask ourselves if we are willing to push beyond our comfort zones and really love that other person to heaven.
Mother Teresa passionately taught that the United States suffers from a worse poverty than those in Calcutta who are starving for a piece of bread. She said the Western world is starving for love. Mother Teresa never had her head up in some spiritual cloud of heavenly bliss, she was wholeheartedly aware of the needs of the day.
She was a saint right in our midst. My dear spiritual mother, the humble unassuming saint, taught the world that it is a lot easier to serve a dish of rice to someone on the other side of the world to meet the need of hunger where we might feel some sort of satisfaction in doing it than it is to serve that dish of rice dish of love to someone in our own home or neighborhood.
Who is that someone? Our spouse, our teenager who is acting up, our neighbor who belittles our Christianity, the person cutting us off in traffic? Are we showing them love with our actions and with our prayers? Do we push beyond our comfort zone and love until it hurts? It almost seems like light years ago when I met that tiny woman—beautiful Mother Teresa, a bit hunched over and looking frail, but in actuality, a powerhouse of faith, hope, and love.
Yet I feel so very close to my spiritual mother in my prayers. To be in Rome, Italy right now is tempting, but I know in my heart that I belong right here, sharing the lessons of love that I have learned from my dear Mother Teresa in interviews through the news media and in my talks, presentations, and face-to-face encounters; all the while striving to see and to serve Jesus in everyone I meet.
Mother Teresa will help us. God is counting on us. If you value the news and views Catholic World Report provides, please consider donating to support our efforts.
Tags: What is a bus interface, how to generate web traffic for free
More articles in this category:
<- How to build a barn shed step by step - How to get promethazine codeine syrup prescribed->